Intervalon 2D-Interval Explorer
Intervalon is a software musical instrument that works on a Windows PC/tablet.

a Win32 desktop application with native Touch interface support. If you do not have a touch screen or a tablet, play by PC-keyboard keys.
has features that makes it easy for you to learn Meantone tunings, and additionally Harmonic-Series tones (you can play the tones by buttons for them), and much more.  It can be quite useful.
works very well even on a low-spec PC/tablet, but please use good speakers.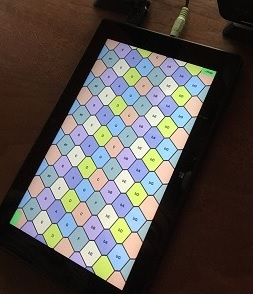 (you can see my fingers)


(a harmony)  
(6 oc. scale)


I'll explain very briefly those basic ideas which this software is based on.  (You can skip it and jump to the download section. You can simply enjoy the instrument, hopefully.)

Traditionally intervals (music) have been understood as 2D-like things, D# and Eb flatly discrete, but nowadays too many people think just otherwise.
1D intervals are originally a handy way of putting things in short, or abbreviations, typically seen in expressing intervals (or notes) by single letters or numbers (second, third, fifth, octave, C,D,E and so on). Do not forget that the basic semantics of musical intervals is 2D-wise.
Are musical intervals 2D really?
Once upon a time there was a straight river called C-D-E-F-G-A-B-C (at that time there were only seven letters in the alphabet). The flow of the river was later changed to the present day C-D-E-F-G-A-B-C, taking a different direction between E-F and B-C, the end point now an octave up from the starting point, so as to be Diatonic, friendly with Octave and Fifth. (You would now call the original humble flow C-D-E-F#-G#-A#-B#-C##.)
An interval can be represented fully by coordinates (a,b), where a and b are any basic interval elements.
For example, If you pick out a second (up) and a minor third as the two basic elements, (1, 0) and (0, 1) respectively, then a fifth is (2, 1), two seconds and one minor third, and an octave is (3, 2), three seconds and two minor thirds, simple arithmetics.
To be probably more readable, let an octave be (0, 2) and a second (1, 0); then,
Relative to C,
C,D,E,F,G,A,B,C (an octave up) will be (0, 0), (1, 0), (2, 0), (-0.5, 1), (0.5, 1), (1.5, 1), (2.5, 1), (0, 2);
Gb,Ab,Bb,C,D,E,F#,G# (a straight river)  (-3, 0), (-2, 0), (-1, 0), (0, 0), (1, 0), (2, 0), (3, 0), (4,0);
Cb,Db,Eb,F,G,A,B,C# (parallel to the above)  (-3.5, 1), (-2.5, 1), (-1.5, 1), (-0.5, 1), (0.5, 1), (1.5, 1), (2.5, 1), (3.5, 1);
B,D,F (min.3rd straight river in G4 chord)   (2.5, 1), (1, 2), (-0.5, 3);
C,C#,C## (chromatic? straight river)  (0, 0), (3.5, -1), (7, -2);
C, In-between of C and D, D (G.Mahler's favorite)  (0, 0), (0.5, 0), (1, 0).
How can you easily recognize and feel the real intervals and leverage them?
Always keep in mind the intervals' 2D semantics.

Those keyboard layout styles which date back to Bosanquet and are now sometimes called isomorphic help it (they are based on intervals 2D-ness).
Some additional prescriptions that I can think of (and put clearly) are as follows.
Do not restrict number of note-keys in an octave to 12 (or any number).
Differentiate enharmonics such as D# vs Eb and G# vs Ab unlimitedly.
Tune (relative) pitch heights of note-keys by relying on Intervals' 2D-ness.
A pure 5th and a pure octave gives Pythagorean tuning; A pure 3rd and a pure octave gives 1/4 comma meantone; A pure 5th and a pure 3rd gives a tuning with a non-pure large octave.
Not that scale tunings are defined in an octave range and copied up/down octaves, as often seen.
Try many tunings.
Pythagorean tuning and 1/4 and 1/3 meantones are most basic.
12-tone equal temperament (12ET) is striking in its simplicity, seemingly implying 1D, which you must see as reduced from 2D.  (I like it, it has its suitable places.)

And balanced tunings. You can try this one, which can technically be called 7/48 comma meantone.
    7/48 = ( (1/3 + 1/4) / 2 ) / 2.  It has 5th/4th and 3rds/6ths equally less pure (5th 698.81867 cents).
    Let M stand for (syntonic) comma meantone,  and m(a,b) just in between of a and b.
    Pythagorean tuning (with pure 5th) = 0 M.
    1/3 comma meantone (with pure min.3rd) = 1/3 M.
    1/4 comma meantone (with pure maj.3rd) = 1/4 M.
    7/24 M = m( 1/3 M,  1/4 M).    Zarlino might have liked this one.
    7/48 M = m( 0 M,  7/24 M).
    Or,
    1/6 M = m( 0 M,  1/3 M).
    1/8 M = m( 0 M,  1/4 M).
    7/48 M = m( 1/6 M,  1/8 M).

Assign 2D-Intervals between Harmonic-series tones.
Harmonic-series tones are so fundamental that intervals between them must be considered (assigned) to be 2D.
These assignments are partially arbitrary but it works.
You can use in-between intervals in such places as 1-7 and 1-11.
Plot note-key points by way of 2D-Intervals and pitch heights, always reflecting them linearly.
That is, plot note-key points of C, D, and E regularly on a straight line only in that case where D is tuned at the just center (mean) of C and E.
Players can transform the board layout anyway they like so far as this mapping linearity is maintained.
(The board drawn in this way can be seen as a gamut.)
You can draw buttons as Voronoi cells, enhancing 2D looks and feels.
Plot also Harmonic-series tone note-keys by this way. Then the series has a visual and useful shape, which can be overlayed on note-key buttons for easy comparison. It is a natural ruler.
Do not think strong expressions are mandatory.
They are only modern. (not only in music.)

-------
Notices:
Play under a moderate sound volume. Do not play too long hours at a time; Take enough breaks.
If instrument sounds are unpleasant in any way, stop playing immediately.
Getting started:
Download the linked zip file (Intervalon20171212.zip, 9.5MB) containing the latest Intervalon folder.  ( A big update is planned around the end of June.)
(After security scan by your antivirus software,) unblock the zip file (right-click -> Properties -> Unblock), and unzip it (right-click -> Extract All).
The folder has in it
    Intervalon.exe,
    three DLL files (un4seen Bass Audio Library),
    Intervalon.ini,
    text files with additional info,
    'Soundfonts to use' folder initially with a small soundfont of my compilation/modification.
     (The soundfont 'EditedforIntervalon.sf2' will be updated fairly frequently. I am improving it every day!  Acknowledgements is in the 'Tips, etc.' text file.)
You can put the folder (or later move it) anywhere you have write-permission (for the ini file to be updated. Windows Registry is not used).

Open Intervalon.exe. Administrative privileges are never required. The board window appears.
Now you can play (just press note-key buttons), and change settings.
Messages are displayed at the bottom of the window.
Enlarge the window by the Windows standard operations.
Press 'Opt. board' (board options) button at the top-left corner of the window.
If the window is vertically not large enough to show all options, you can kind of scroll by pressing the twin buttons at the right of 'Opt. board' button.
Double-arrow buttons go forward/backward with larger steps.
Hide/Unhide options by 'Hide' button at the top-right corner of the window.

Adjust scaling by the buttons on the 'Scaling' line.
Scroll (change the note range covered) by the buttons on the 'scroll' line.
Change orientation, aspect ratio, rotation.  A couple of prototype patterns (Layout profiles) are provided.
Note that you can easily cover six octaves range or more, even with a small-size monitor (the case with tablets), by changing aspect (xy) ratio.
Save the settings into the ini file by pressing 'save board options...' button.


Press 'Opt. sound' (sound options) button.
Tunings are defined in the ini file (editable by hand in your favorite text editor).
Intervalon generates sound by way of MIDI; It has in it a mini synthesizer (select a soundfont to use), or connects to an external software/hardware multitimbral synth (select a midi-out device).

Change tunings, soundfont/midiout-device, instruments, and so on.
You can optionally choose audio via WASAPI, Windows audio facility for higher quality and lower latency (only exclusive mode at present). I always use it. Simply selected an WASAPI audio device as the audio-out. Use push-mode if pull(event)-mode does not work.
Save the settings into the ini file by pressing 'save sound options...' button.

To play Harmonic-series tones, press the button 'Harmonic Series Tones' or 'PAD' in board options.

Specify the primary (first) tone by mounting a Harmonic-series tone note-key on any board note-key, by 'Drag'.
In keyboard-key playing, you can use keyboard-key assignments for them. Switch the current key-assignment-set by keyboard-key shortcut Shift + Z and Shift + X.
License of this software
Copyright © 2015 Kazuhiko Shirai.
Intervalon is freeware. It can be used anyway.
Redistribution is prohibited.

Disclaimer
The software is provided as is without warranty of any kind.
Use it at your own risk. The author is not responsible for any loss or damage resulting from the use or misuse of it.


---
The author's favorite composers:
Palestrina, Alessandro Scarlatti,  Handel,
Beethoven, Muzio Clementi,
Brahms, Mahler, Manuel de Falla, Furtwängler
...


---
by Kazuhiko Shirai. mail: kazuhiko.shirai@intervalon.com
last updated 2018/05/25.
<